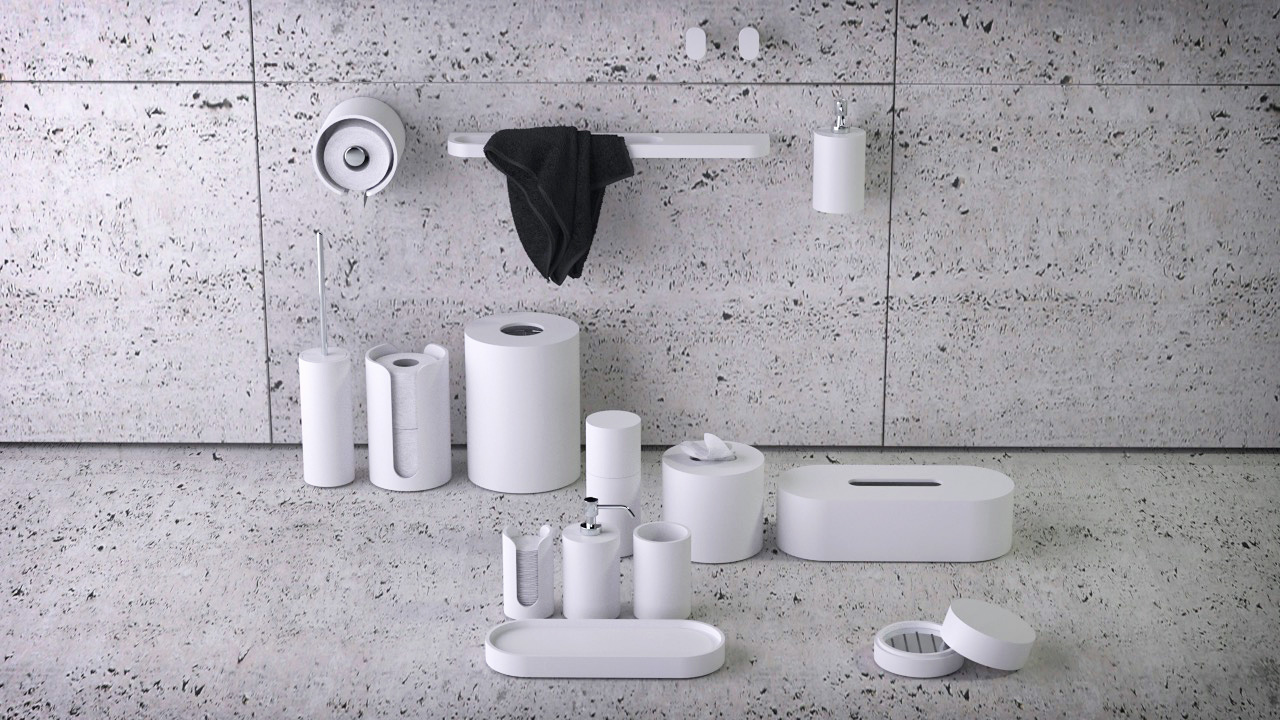 the icing on the cake is provided by our comprehensive range of K|Stone® accessories that makes the nal bathroom presentation perfect.
there are many combinations to choose from, centered around the 'pure' 'free' and 'oval' creations adding real value, versatility and style to the most used space in your home.

model

code matte

code glossy

dimension (l x w x h)

weight

Wall mounted
01 wall shelf w towel slot
0600-282-01
0600-282-02
50x8x2 cm
–
02 coat hook
0600-280-01
0600-280-02
5x5x3 cm
–
03 toilet roll holder
0600-281-01
0600-281-02
Ø 13×12,5 cm
–
04 soap dispenser
0600-283-01
0600-283-02
Ø 8 x 12 cm
–
Standing
05 long tray
0600-292-01
0600-292-02
32x12x3 cm
–
06 soap dish
0600-294-01
0600-294-02
Ø 11×6 cm
–
07 cotton pad box
0600-289-01
0600-289-02
Ø 8×12,5 cm
–
08 soap dispenser
0600-290-01
0600-290-02
Ø 8×12 cm
–
09 kleenex box
0600-288-01
0600-288-02
35×14,5×9,5 cm
–
10 tissue box
0600-287-01
0600-287-02
Ø 15×13,5 cm
–
11 toothbrush pot w lid
0600-286-01
0600-286-02
Ø 8×20 cm
–
12 goblet
0600-291-01
0600-291-02
Ø 8×12 cm
–
13 toilet brush holder
0600-293-01
0600-293-02
Ø 8×40 cm
–
14 wastebin
0600-285-01
0600-285-02
Ø 18×24 cm
–
15 spare roll holder
0600-284-01
0600-284-02
Ø 13×24 cm
–
technical data
material:
solid surface k|stone®
colour:
white ral 9010.  see more colours
packaging:
solid carton box
tara:
10kg for each carton box 15kg for one wooden pallet
design:
Peter Jamieson
documentation:
go to downloads
K|Stone® colours & finishes
Knief & co.'s evolutionary composition of K|Stone® solid surface is a symbiosis of materials offering unique and endless combinations of design, material and colour. In addition to various color options, K|Stone® offers the choice between mat and glossy nishes. Thanks to its special formula the desired high gloss level can be achieved by special mechanical treatment and not by coating or painting!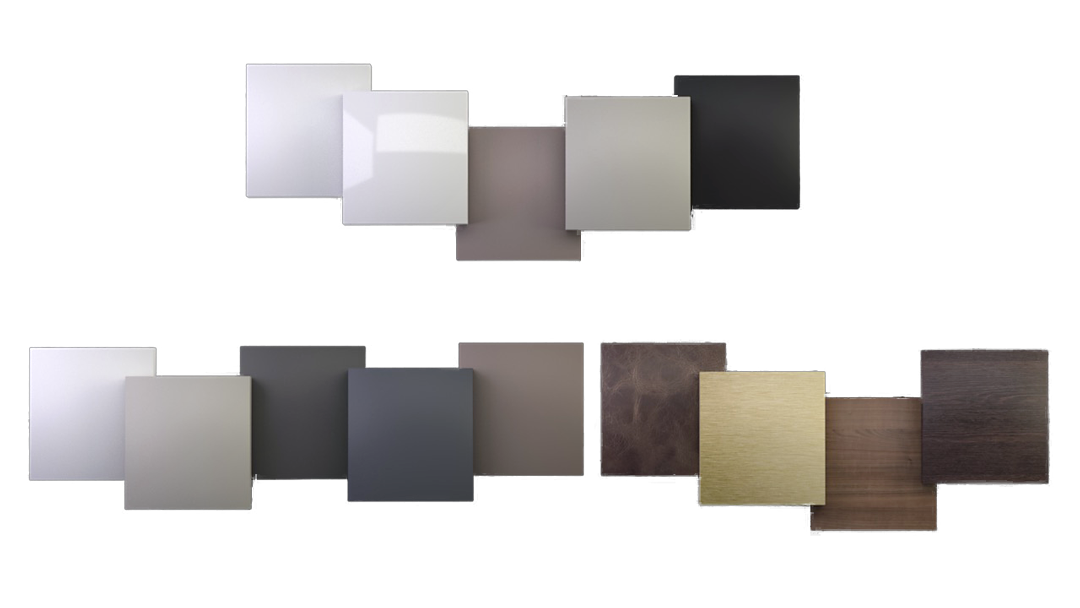 standard colours
K|Stone® is available in five matt or glossy colours. top row, left to right.
white mat
white glossy
pearl grey
concrete
black
furniture interior colours
K|Stone® furniture is available in nine interior finishes. bottom row, left to right.
snow white
concrete grey
anthracite dark
nacre grey
warm grey
leather
brushed gold
cherry
wenge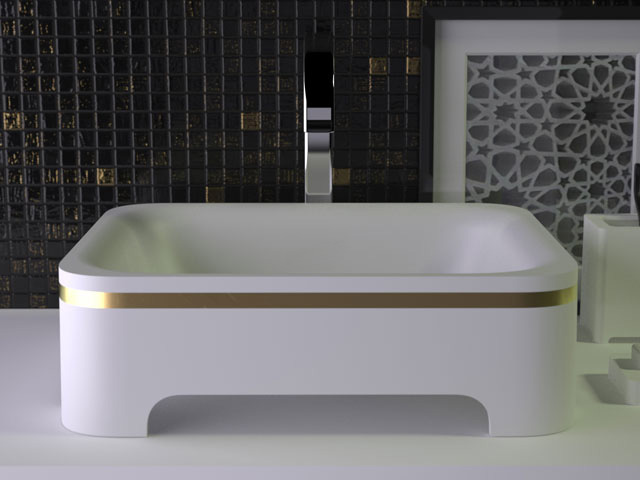 special finishes
Whether the purpose is an individual architecture project or the creation of a commercial range: The variety in form, design and colour is nearly endless. As well as these standard colours, the K|Stone® collection is avaliable in absolutely any RAL colour you desire, as well as gold or silver finishes.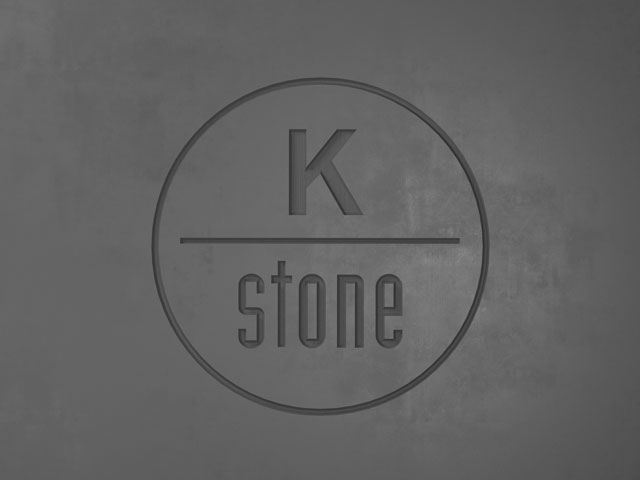 customizing
Customized product development implements the core idea of evolution. We are your competent workbench! with our K|Stone® solid surface production, we will accomodate every request and special requirement to perfectly satisfy our customers.